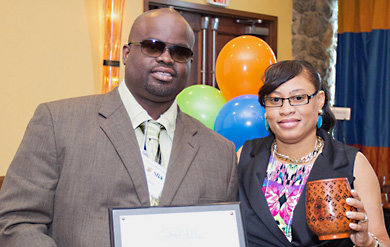 The Virgin Islands Small Business Development Center (VI SBDC) named Arawak Bay: The Inn at Salt River, LLC the Small Business of the Year on St. Croix, and Just Threads the Small Business of the Year on St. Thomas. The VI SBDC presented the awards to Arawak Bay owners Jennifer Jackson and Lionel Jacobs at ceremonies held on June 5, on St. Croix, and to Just Threads owners Cyril and Germene Thomas on June 6, on St. Thomas. 
PHOTO: Just Threads owners Cyril and Germene Thomas pose for a photo after their business was named the Small Business of the Year on St. Thomas. 
"Our 2014 award winners are examples of determination and success," said State Director of the VI SBDC Leonor Dottin. "Business ownership is about taking risks and working towards minimizing these risks as you grow the businesses. The award winners are examples of the success of utilizing services like the VI SBDC to further their dreams and subsequently grow their businesses."
Arawak Bay opened in March 2007. Jackson and Jacobs were both new to the hospitality industry. Jackson was employed at the University of the Virgin Islands for 23 years. Before she separated from UVI in 2005, she served as the chancellor for the St. Croix Campus. Lionel Jacobs, a retired architect by trade, was previously the director of planning and construction at the Virgin Islands Housing Finance Authority. They opened Arawak Bay confident that their life and career experiences uniquely qualified them for the construction and management of their business.
Arawak Bay, located on the north shore of St. Croix, was designed by Jacobs. It features balconies, landscaping and colors designed to emphasize the beauty and historic culture of St. Croix. Jackson, having spent the majority of her career managing academic administration, now runs the inn. She shares the beautiful features of St. Croix with visitors to the territory.
"We essentially tried to create a hotel with a difference," said Jackson. "It's just not a place where people stay while visiting the island. We try to make sure that their stay in St. Croix is enjoyable. Based on their interests, we help them plan what to do while on island so that they can enjoy the best features of the Virgin Islands." They also work with groups, mostly from various mainland universities, and plan their activities to ensure that all guests have an excellent experience.  
 Jackson thanks the VI SBDC for the honor of recognizing their efforts. "When you start a small business in the Virgin Islands you're pretty much on your own," said Jackson. But she found allies in the helpful VI SBDC staff and the training sessions offered at the center. The VI SBDC courses that she took with other businesses owners assisted her in remaining compliant as a limited liability company and helped her shift focus from day to day management to planning and marketing and developing strategies for success. "The SBDC courses and their other offerings can be seen as a 101 in how you run a small business," she said. During those courses, Jackson was also able to network with other business owners and discuss challenges and business strategies. The Arawak Bay Inn has also received certificates of excellence from the popular Trip Advisor website in 2013 and 2014.
"It was an honor to receive the award," said Cyril Thomas, of Just Threads. "It shows all the hard work that we have been doing for the community and ourselves has actually made a difference."
He worked for the Footlocker Corporation for 10 years before partnering with his wife to open Just Threads in Tutu Park Mall in 2002. Cyril Thomas started his career at Footlocker as a full-time sales representative in 1992. Two years later, he was promoted to store manager of two Footlocker stores – one on St. Thomas and one on St. Croix. Later he was promoted to market leader over all stores in the U.S. Virgin Islands. Just Threads is located at the center of Tutu Park Mall and sells all kinds of clothing, including unisex designer dresses, suits and pants. Among their inventory is a variety of caps. Thomas was pleased with the support, advice and training he received at the VI SBDC. "While I have years of business experience, the SBDC helped me to add to my knowledge and improve my business outlook," he said. In the near future, he plans to continue to work with the VI SBDC to find out how he can promote the business as he moves to diversify his inventory to include sporting goods.
"Small business owners must prepare themselves to strive and further grow their business," said Dottin. "Through the services offered at the VI-SBDC, they can take advantage of counseling services that are of no-charge to them in areas such as financial management, accounting, marketing, sales, strategic planning, retail, merchandising, social media and other very important areas of business." She continued, "What is most important is that the VI-SBDC counselors work as a team and they utilize each other's strengths to further their service potential to clients."
Other 2014 SBDC award recipients include:
St. Thomas Woman-Owned Business of the Year – Jill Farley, owner of Cool Signs
St. Croix Woman-Owned Business of the Year – Yoki K. Hanley, owner of Itiba, LLC
St. Croix Entrepreneurial Success Award – Marston Adams, owner of Kiki's Automotive, Inc. d/b/a Kiki's Alternators & Starters
St. Thomas/St. Croix Small Business Advocate of the Year – The Virgin Islands Daily News
The 2014 Small Business Administration award recipients:
SBA Entrepreneur of the Year for St. John – Curtis Penn, owner of Caribbean Seashells Vacation Villas
SBA Entrepreneur of the Year for St. Croix – Angel Diaz, owner of the La Reine Chicken Shack
SBA Entrepreneur of the Year for St. Thomas – Michael S. Barrows, DDS, Happy Teeth Dental Office
SBA Bank of the Year – Banco Popular de Puerto Rico
The award presentation marked the end of the Virgin Islands Small Business Week held from June 1 through 7. Small businesses also had the opportunity to participate in specialized training sessions designed to foster business growth.
All the activities offered during Small Business Week were made available by the support received from FirstBank VI, Virgin Islands Next Generation Network, Banco Popular, Marriott Frenchman's Reef Resort, and the Virgin Islands Economic Development Authority. The VI-SBDC is a partnership program of UVI and the U.S. Small Business Administration.