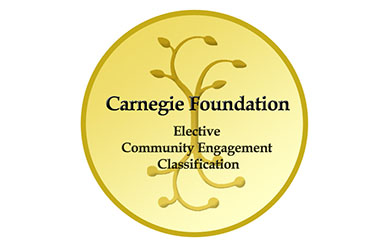 The University of the Virgin Islands received Community Engagement Classification status from the Carnegie Foundation for the Advancement of Teaching. The Carnegie Foundation grants this designation to colleges and universities who have an institutional focus on community engagement. Institutions participate voluntarily by submitting required materials describing the nature and extent of their engagement with the community. UVI is one of 361 institutions nationwide who have received this designation since the inception of the program.
"The Community Engagement Classification represents a significant affirmation of the importance of community engagement in the agenda of higher education," said Carnegie Foundation President Anthony S. Bryk. "The foundation believes that the classification provides campuses of every institutional type an opportunity to affirm a commitment to community engagement as an essential aspect of institutional mission and identity." In order to be selected, institutions had to provide descriptions and examples of institutionalized practices of community engagement that showed alignment among mission, culture, leadership, resources and practices. UVI's classification is valid until 2025.  
 "This is a very prestigious honor that is bestowed upon a select group of institutions who can demonstrate that they are making a meaningful and consistent contribution to their community," said UVI President David Hall. "UVI received this honor due to our excellent alignment among campus mission, culture, leadership, resources, and practices that support dynamic and noteworthy community engagement and exemplary institutionalized practices of community engagement." He continued, "This is compelling evidence from a very selective and prestigious body that UVI is fulfilling its mission of serving the territory in a meaningful manner."
"We are indeed honored and humbled to be the recipient of such a prestigious award, which is a clear recognition of the significance and importance of the work of the University in the community," said Dr. Haldane Davies, UVI vice president for Business Development and Innovation. "The University is fully committed to further enhancing its mission of academic excellence, innovative research, and responsive community engagement as it works to improve the quality of life throughout the Virgin Islands, the region, and the world."
"The importance of this elective classification is borne out by the response of so many campuses that have demonstrated their deep engagement with local, regional, national, and global communities," said John Saltmarsh, director of the New England Resource Center for Higher Education, who partners with the Carnegie Foundation to assist in managing and administering the Community Engagement Classification process. "These are campuses that are improving teaching and learning, producing research that makes a difference in communities, and revitalizing their civic and academic missions."
The first-time recipients of the classification included 47 public institutions and 36 private institutions. Of those that received the Carnegie Foundations' basic classification, 28 are classified as research universities, 28 are master's colleges and universities, 17 are baccalaureate colleges, four are community colleges, and five institutions have a specialized focus in the arts, medicine, and other health professions. They represent campuses in 33 states and United States territories. 
For more information visit the Office of the President's Accreditation and Memberships webpage or call (340) 693-1000.