By using captivating images of creatures and fauna of the Virgin Islands' oceans, Jarvon Stout – VI Marine Advisory Service (VIMAS) assistant – has found a way to utilize art to teach marine biology at the Addelita Cancryn Junior high school (ACJHS).
Lisa A. Hassel-Forde, ACJHS principal, who is currently infusing marine biology into the school's curriculum, enlisted the aid of Jarvon Stout to help. Stout, a marine biology enthusiast and UVI student, works as an assistant with VIMAS. The advisory service engages educators, students, governmental/non-governmental entities, as well as the general public to raise awareness about various marine and environmental topics. VIMAS is located within the Center for Marine and Environmental Studies (CMES) at the University of the Virgin Islands.
"Marine biology as a subject has not been taught in our schools for quite some time, which is quite sad given that we live on an island," said Hassel-Ford. "I am so pleased to have Jarvon Stout painting these murals at my school and getting my students interested in marine biology."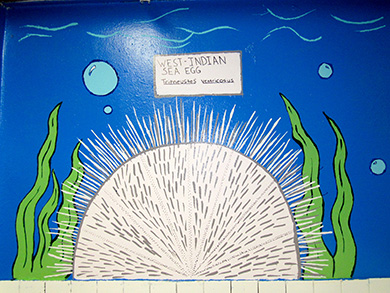 Stout began painting bright colorful murals of marine animals in October 2015. His work includes displays of marine life that students can easily observe while snorkeling in the Caribbean waters.
"I chose to include the common and scientific names of these organisms to help get the students to better identify what each species is," said Stout. "It is my hope that now, when these students come to UVI's Center for Marine and Environmental Science for field trip activities, they can easily recall the scientific names of these same organisms when they see them in real life."
One of the initiatives of VIMAS is the Environmental Learning Outside the Classroom (ELOC) Program.  Through this program VIMAS helps make science education exciting for students and educators can partner with VIMAS to plan and coordinate outside learning activities that get students into different natural habitats within the Virgin Islands, such as mangrove forests, sea grass beds, and other marine-related habitats. By immersing students into these types of activities, ELOC aims towards making science careers appear more appealing to students prior to entering college.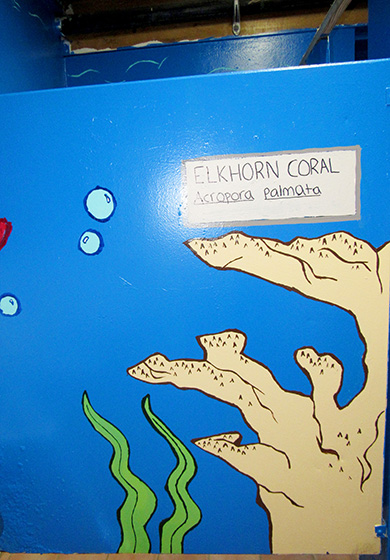 "Sometimes you have to think outside the box when it comes to education and outreach," Howard Forbes Jr., VIMAS St. Thomas coordinator said. "While lecturing about these topics can be effective, the use of different mediums such as art to convey your message, can work better, especially for this specific audience."
Stout has painted murals in bathrooms and hallways of the ACJHS, but hopes that similar projects can occur in other educational environments to help foster appreciation for the marine environment by the youth and the VI community. For more information visit http://vimas.uvi.edu.