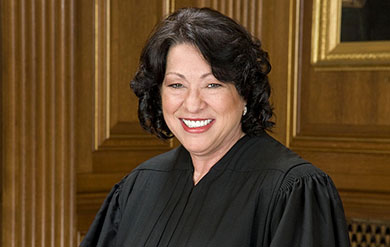 In a special session on Jan. 31, the University of the Virgin Islands Board of Trustees reconvened in executive session to complete the agenda of their Jan. 19, meeting, which was adjourned in executive session.
While in executive session, the Board ratified actions taken by the Executive Committee to award an honorary degree to the Honorable Sonia Sotomayor, United States Supreme Court justice.
Justice Sotomayor will receive an honorary degree at UVI's Student Convocation. In this Centennial year that marks the legal alignment of the Virgin Islands with the United States, and during the 55th Anniversary of the University of the Virgin Islands, we will be blessed to have in our midst a distinguished member of the highest court of this land, who is the first Justice of Hispanic descent and the third woman Justice in the history of the U.S. Supreme Court and is honored to be a part of the Virgin Islands historic centennial celebration and the University's 55th Anniversary of its existence, said UVI President David Hall.
Other actions taken by the Board in executive session include:
Approval of the minutes for the Oct. 22, 2016 Board of Trustees executive session
Approval of a service agreement with Level Playing Field to provide instructional course design, technology infrastructure and academic support for online courses and degrees.
The Board of Trustees last met on Jan. 19, in special session.