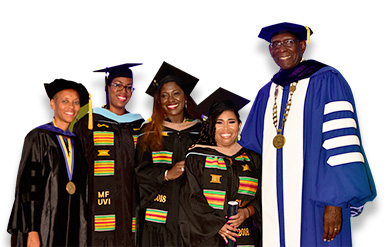 From a graduating class of 33, 12 graduated from the University of the Virgin Islands (UVI) at the University of St Martin (USM) on Aug. 18, 2018 at the Belair Community Center in Sint Maarten.
The graduating UVI at USM class is the first cohort of students to have completed their respective degrees under a Memorandum of Understanding (MOU) with the University of St. Martin (USM). Through the MOU, students from St. Maarten/St. Martin are able to study at UVI without having to leave the island. 
The successful students completed undergraduate and graduate degrees in education and business administration. 
UVI's President, Dr. David Hall thanked the students for their tenacity and resilience and challenged the students to use their degrees to make a difference in their community and world.  
"The entire University of the Virgin Islands (UVI) community is proud of the tremendous tenacity and resilience of all of the students of the University of St. Martin (USM) for your achievements," said Dr Hall. "I am also especially proud of those students who are receiving their degrees from the University of the Virgin Islands (UVI). You are pioneers and we hope many will follow in your footsteps." 
President of the University of St. Martin, Dr. Antonio Carmona– Bàez recognized the students for their ability to overcome climatic, economic and institutional adversities.    
"I congratulate each of you for your individual triumphs, while acknowledging that your success represents a victory for all of us," said Dr. Carmona– Bàez . "I invite you now to never stop dreaming, not only in order to change your personal circumstances but also to keep striving for the collective good of this beautiful island-nation." 
UVI at USM, is part of a strategic effort to expand opportunities for more individuals to have access to a UVI program of study and degree. The University of St. Martin provides classroom and office space for UVI faculty who teach the courses on St. Martin and some courses are offered online. Two to three UVI professors travel regularly to St. Martin to teach courses offered on Fridays and Saturdays.  Additionally, a UVI professor resides on St. Martin to deliver instruction.   
Crystal James:  A degree for my Mama! 
"It was my mother's passing that inspired me to pursue higher education," exclaimed Crystal, when asked why she decided to enroll at the University of the Virgin Islands at the University of St. Martin.  
Crystal lost her mom when she was 24, according to Crystal, her mom wanted all of her children to be educated. Crystal believes that through tertiary level education one becomes more knowledgeable and can exceed in one's career. Crystal earned a Bachelor of Arts degree in business administration with a concentration in management.   
The road to graduation was not an easy one. Crystal manned a full-time job, working from 8 a.m. - 5 p.m. The 20-minute commute to class would sometimes see her leaving work a few minutes early to ensure she arrived to campus in time for her 5:30 class. After classes ended at 9 p.m., Crystal retreated home, completed assignments, and studied for exams only to do it all over the following day.  
After the passage of hurricanes Irma and Maria, Crystal was worried that she would not be able to complete her courses on time. For Crystal, there were a lot of mixed emotions in her mind and the hurricanes were a sure setback. Remaining steadfast in her faith, Crystal quickly recognized that every disappointment is a blessing, it worked out for a good.  
According to Crystal, post Irma and Maria was stressful. "I had to remain strong mentally and not be discouraged from continuing my education," said Crystal. "A lot of students wanted to quit and actually did quit. At the end of the day, it really motivated me as an individual to 
know what I want and go for what I want." 
Post-graduation, Crystal hopes to open her own business—she is looking to do so in the next two years.  
Tamisha David: Overcoming adversity! 
Tamisha's graduation from UVI is a perfect example of how an individual is able to overcome adversity while achieving academic and personal success. Her journey at UVI is unlike many of her peers. While other students focused on managing a full-time job and completing class assignments, so too did Tamisha while assuming responsibility as the sole caretaker of her father.  
While a student, employee and business owner, Tamisha managed to achieve academic excellence while caring for her father who suffered from an injury to the brain resulting in a brain bleed. For Tamisha, this journey was far from easy. She recalls working different shifts during the day, transporting her mom to work and appointments, attending classes all while caring for her sick father. According to Tamisha, she quickly learnt how precious her time was. Staying on top of her game usually meant completing assignments while grabbing lunch.  
The business administration student says it was a life changing moment the day she decided to choose UVI. Though her journey had its fair share of ups and down, Tamisha says her UVI degree taught her to fight for her rights—she is leaving UVI with a clear understanding of her next steps. 
Tamisha is looking forward to a career in finance, she has already decided to complete a master's program in Holland or the Netherlands in International Finance. According to Tamisha, it was her Finance professor, Dr. Dion Gouws who inspired her decision to pursue graduate studies in this field.  
Marianne Flanders: Transitioning to education leadership 
There is never a day that passes by that Marianne is not proud to have made the decision to complete her graduate studies in education with a concentration in leadership—a decision she claims to never regret. 
At the time of her studies, Marianne transitioned into a leadership role at the Methodist Agogic Centre in St. Martin. On the heels of her new assignment, Marianne believes she has been 
able to excel at this role because of the support provided by her professors. After teaching for years, Marianne became the assistant principal, a position she described as extremely challenging in her first year. For Marianne, being able to use the tools from her master's degree was most rewarding.