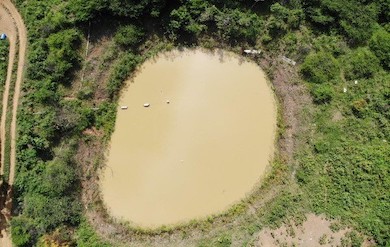 In celebration of #WorldWaterDay, the Caribbean Green Technology Center (CGTC) at the University of the Virgin Islands will host World Water Month outreach events throughout March to showcase the ways Virgin Islanders can learn more about water quality, safe drinking water, water conservation strategies, wastewater, and the impacts of drought on agriculture.
CGTC staff are working to help residents learn ways to stay healthy while stretching their dollar when it comes to water. The webinar series will include a range of speakers from US Drought Monitor, National Park Service, farmers and local and national water testing and filtration companies, such as Caribbean Water Technologies based in the USVI, Sawyer Water Filters and Aquagenx.
Dr. Greg Guannel, director of the CGTC indicated that the goal of the month-long series of webinars is to provide useful information to the community so they can make informed decisions about the water they drink and use. "Especially now, as we prepare for hurricane season, it's important to remember, water quality is a good investment and these workshops can help you to reduce costs and help you maintain safe drinking water which can impact your health," Guannel stated. "Safe drinking water is important and one way to stay ahead of illness related to water is to be informed so you know what to do and how to keep your water safe, especially if you have small children and seniors at home." 
CGTC will host weekly webinars also in addition to launching a new Drought newsletter for the community focused on agriculture as well as a Water Resource Guide "Go with Flow" which will focus on household water management strategies from CGTC that are Caribbean focused.
The first webinar on March 3, titled "Got Drought? Drought Mitigation Strategies for Farmers" will discuss
how drought is monitored; what are the impacts to the community and creative ideas from farmers to help overcome the impacts of drought? The next webinar on World Water Day, March 22, will talk about ensuring clean water and the importance of water quality and health. The webinar on March 24, hosted by the Hazard Mitigation and Resilience Plan team, will examine design considerations for sea-level rise and other climate change impacts. The final webinar on March 30, will launch "Go with the Flow," a resource guide created by CGTC for household water and wastewater. To learn more about what CGTC is planning in celebration of World Water Day throughout the month of March or to register for these free and informative events, go to www.cgtc-usvi.com/world-water-month.
For more information and to stay informed of all the events being hosted by CGTC visit their website at Caribbean Green Technology Center (cgtc-usvi.com).