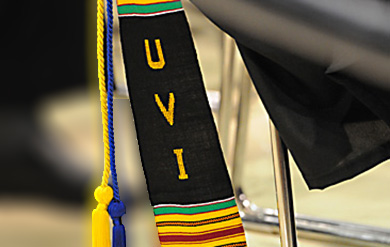 On Friday, May 14, the University of the Virgin Islands will confer over 300 degrees earned by graduates in the Class of 2021. An online ceremony will be held at 1 p.m. for graduates from the Albert A. Sheen Campus on St. Croix, the Orville E. Kean Campus on St. Thomas and the UVI extension campus, the University of St. Martin on St. Martin. Multiple social media sites will carry the event to include, UVI's official YouTube channel, Facebook and Twitter pages. Links to these sites can be found on www.uvi.edu.  "We are especially proud of our graduates as we celebrate their collective success and launch them into the world to make it better through the use of their skills, talents and expertise," said UVI President Dr. David Hall. "While the current circumstances would not permit us to be together, the University is committed to providing an equally gratifying celebration to commemorate our students' excellence." 
Renowned Reverend Dr. Raphael G. Warnock, U.S. senator, will give the keynote address. The University will bestow upon him the honorary degree – Doctor of Humane Letters. 
"We are honored and overjoyed that Senator Warnock will serve as our keynote speaker for the 2021 Commencement," said Dr. Hall. "All eyes in America were on him in January as he sought to become the first African American Senator from the State of Georgia. The control of the US Senate was in part determined by his historic election. Yet many have had their eyes on Reverend Dr. Warnock for years as he preserved and continued the legacy of Dr. Martin Luther King by being a dynamic and socially active pastor for 15 years of the historic Ebenezer Baptist Church in Atlanta Georgia. He is a visionary, passionate and insightful orator, and someone I am proud to call my friend."   
Esteemed jurist, outstanding public servant, and consummate humanitarian, the Honorable Wilma A. Lewis, chief judge for the District Court of the Virgin Islands will be presented with the honorary degree – Doctor of Laws. Exemplar of leadership, meticulous guide, and quiet force of excellence, Alexander A. Moorhead, Jr., UVI Board Chair Emeritus, will be honored with a Doctor of Humane Letters degree at this year's ceremony. 
Xuxa Garroden has been selected to be the Class of 2021 speaker from the Kean Campus. Garroden is graduating with a Bachelor of Science Degree in Chemistry. Kelvina Salters, the Class of 2021 speaker selected from the Sheen Campus, is graduating with a Bachelor of Arts Degree in Social Science and a minor in political science.  
| | |
| --- | --- |
| 2021 Commencement Statistics   | |
| | |
| Ph. D Creative Leadership & Innovation  | |
| | |
| Total Ph. D Creative Leadership & Innovation  | |
| | |
| | |
| Master of Business Administration  | |
| | |
| | |
| Bachelor of Business Administration  | |
| | |
| | |
| | |
| | |
| Master of Arts School Counseling  | |
| Master of Arts Educational Leadership  | |
| | |
| | |
| | |
| | |
| Total School of Education  | |
| | |
| | |
| | |
| | |
| | |
| College of Liberal Arts & Social Sciences  | |
| | |
| Master of Public Administration  | |
| | |
| | |
| Associate of Applied Science  | |
| Total College of Liberal Arts & Social Sciences  | |
| | |
| College of Science & Mathematic  | |
| Master of Marine and Environmental Studies  | |
| | |
| | |
| | |
| Associate of Applied Science  | |
| Total College of Science & Mathematic  | |
| | |
A Closer Look – UVI Class of 2021 Graduate Stories  
"What The Trunk Couldn't Do, The Branches Must Do."  
First Generation UVI Graduate Takes Premier Step Toward Lifelong Goal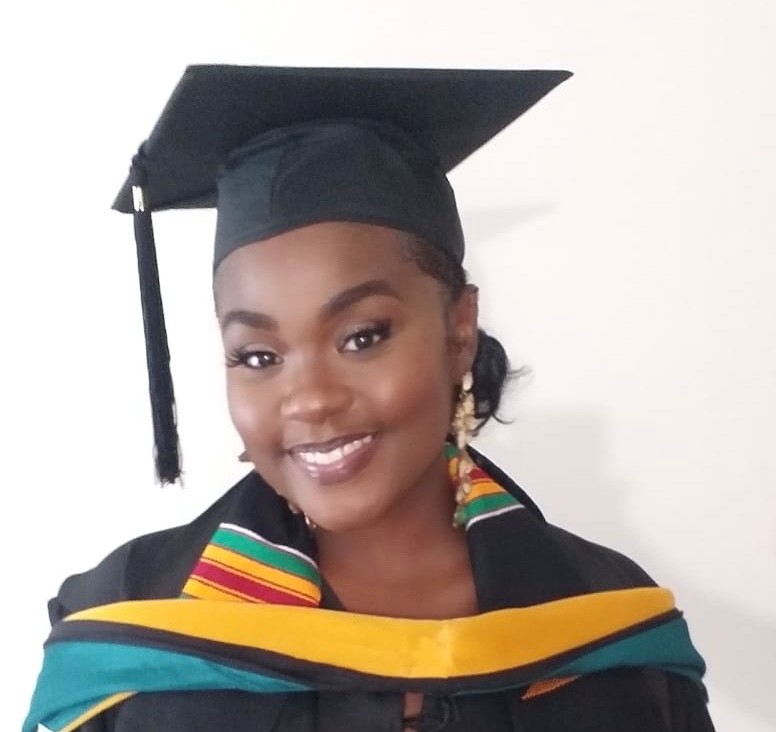 Service and leadership have always been at the core of everything that Kelvina Salters was drawn to. Her involvement in school events growing up in St. Kitts had already taught her of the invaluable benefits and thus pushed her to do more once she began her journey at the University of the Virgin Islands (UVI).   
Salters' commitment to leadership was demonstrated in her service as a resident assistant, a position she held from her admission in 2018 until 2020. She exemplified the University's core values of civic and global engagement by participating in the Thurgood Marshall College Fund and the Washington Center in 2019.  
"Service and leadership are about empathizing with others and helping them to meet their needs," Salters says. "In service to my community and school, I felt that being able to inspire and encourage someone to want to make an impact on the world is a major accomplishment." 
To read more, visit: https://magazine.uvi.edu/what-the-trunk-couldnt-do-the-branches-must-do/
Ilive Peltier - Moving Forward to a More Sustainable Future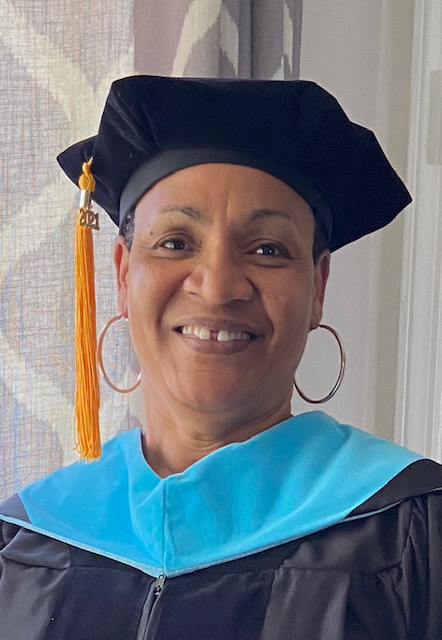 Dr. Ilive Peltier wants to change the world and is well-poised to do so. Having earned a Ph.D. in Creative Leadership for Innovation and Change from the University of the Virgin Islands, the recent graduate and long-time educator is up for the challenge. As a Ph.D. student, Peltier studied the role of education, creativity and innovation in sustainability efforts with a focus on the effects of climate change in the Caribbean. Part of her research and ideas on what can be done to mitigate climate change will be published in a new book this year. 
"The Caribbean needs more awareness, needs help, and needs to change the way we relate to and think about our environment," urges Peltier, who lives on St. John. She remembers visiting the mangroves in Coral Bay after the 2017 hurricanes and being struck by the damage. "I just cried," she recalls. For Peltier, the hurricanes, which hit both the Virgin Islands and her native Dominica, were another wake-up call to the climate crisis. 
"I decided on this area of study, not for personal reasons, but for the benefit of our community, our islands, our region," she said. Though Peltier initially enrolled in the Ph.D. program's Education track, she switched to the Creativity track when she became intrigued with studying sustainability and climate change mitigation. "With the world changing and education being the catalyst for social change, I felt that the Creativity track was the better place for an educator like me who believes in the 'revolution' of education for sustainability, and the only place this can be done is in a space where the imagination can be sparked even more," says Peltier. 
To read more, visit: https://magazine.uvi.edu/ilive-peltier-looks-forward-to-a-more-sustainable-future/
Leading the Way - Xuxa Garroden Calls on Classmates to Make an Impact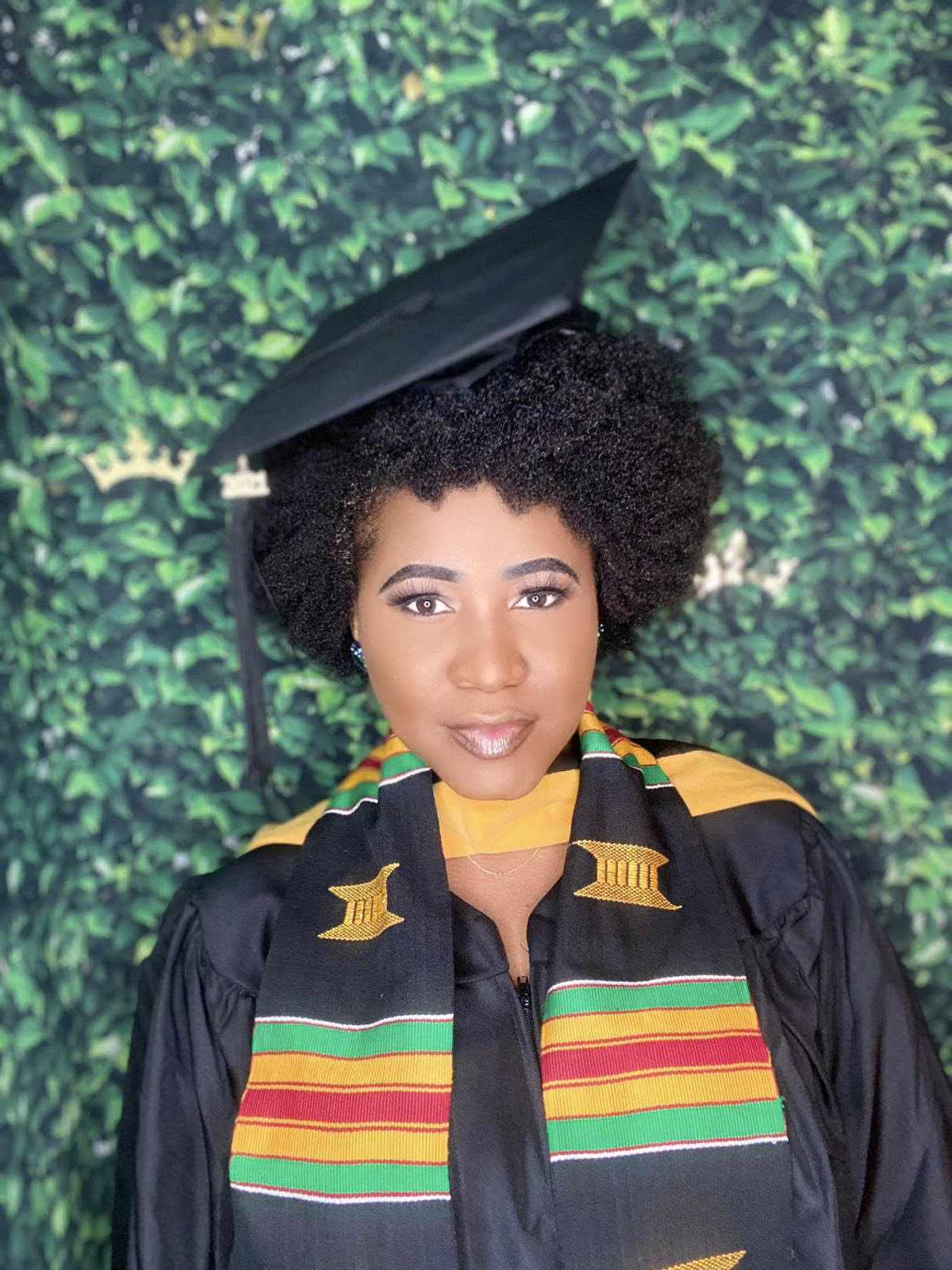 "We can be the impact!" This is Xuxa Garroden's  charge. Her calling to serve others came at a young age. Long before planning her own career and enrolling at the University of the Virgin Islands, Xuxa was driven to serve.   
While growing up in St. Kitts, Xuxa recognized that many people didn't have access to the healthcare they needed. She was especially moved by a neighbor who became a quadriplegic as a teenager after a diving accident. 
 "I raised funds for him to obtain a medical visa to travel for specialized care," she recalled. Despite her efforts, however, she soon realized off-island healthcare would be unaffordable. That problem sparked Xuxa's mission to position herself to help people. 
This May, Xuxa will earn a Bachelor of Science Degree in chemistry and plans to enroll in medical school at St. George University in Grenada in the Fall. Reflecting on her time at UVI, she said, "Being mentored by my UVI advisor Dr. Yakini Brandy helped me to gain tenacity and stir discipline. She encouraged me to persevere and reminded me 'you have what it takes'." Xuxa also highly credits her success to her aunts and uncles in St. Thomas as well as her family and mentors in St. Kitts for their unwavering support throughout her journey. 
To read more, visit: https://magazine.uvi.edu/leading-the-way-xuxa-garroden-calls-on-classmates-to-make-an-impact/  
Sandra Antoine: Striving Higher; 'Whatever You Put Your Mind to is Possible'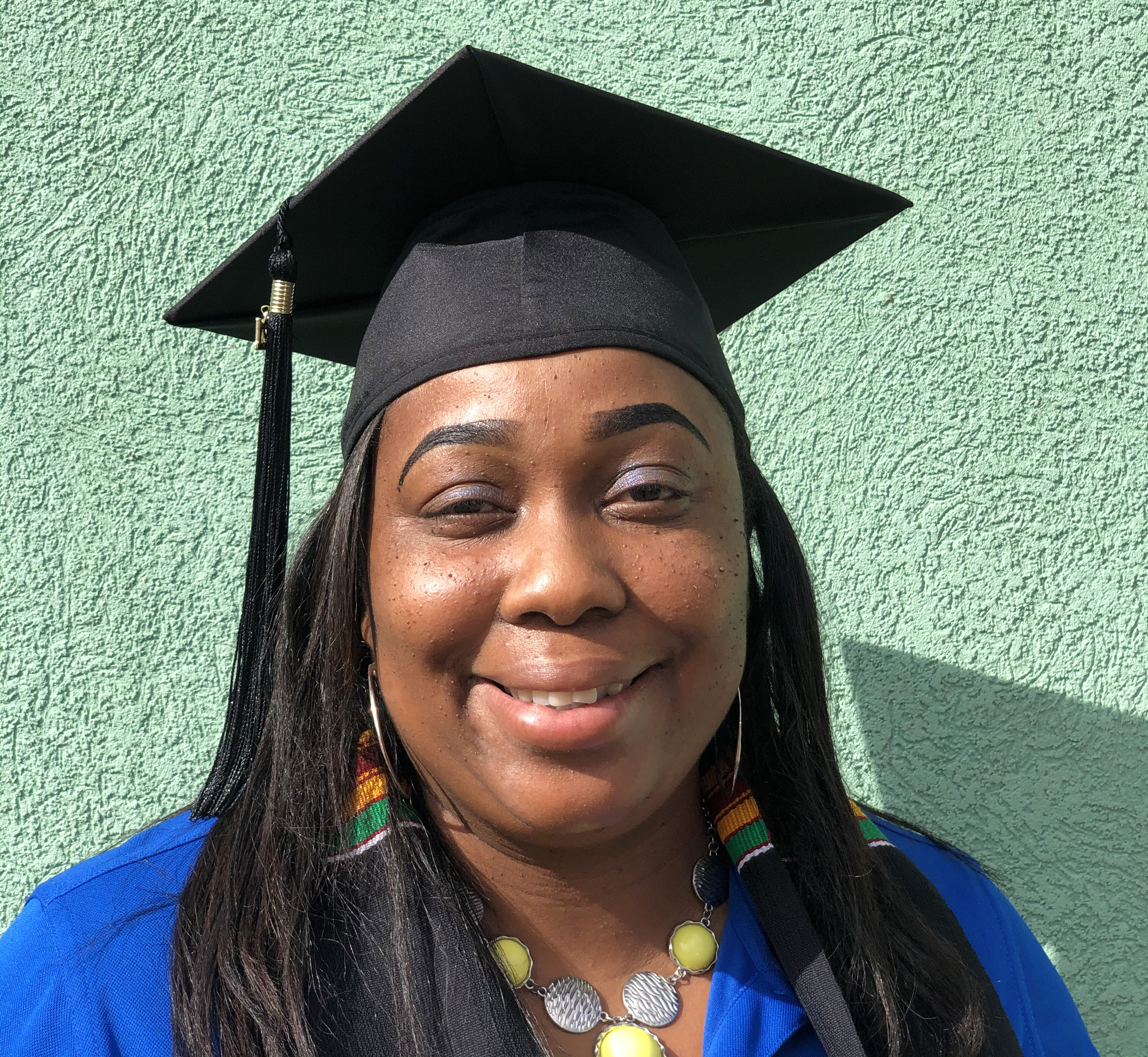 Sandra Antoine will soon earn her Master of Arts Degree in Educational Leadership from the University of the Virgin Islands. Currently, an elementary school teacher at the Arthur A. Richards K-8 school on St. Croix, Sandra has set forth the path to one day become an education administrator.  
Sandra enrolled at UVI as a part-time student, where she started out taking two courses. However due to the untimely passing of her father, Sandra decided to take some time off. "That put my master's courses on a pause, so instead of just taking off a semester, I took an entire year off," mentions Sandra. "After taking a year off, I was blessed with my two last kids, my daughter and son, which required me to take some more time off." 
After taking some time off, Sandra decided to re-enroll into UVI to earn her master's degree. "Time was going by and I really wanted to finish my degree program," says Sandra. She recalls reaching out to Dr. Magdalene Tobias for assistance with re-enrolling. "She was really excited to hear that I was re-enrolling, I think she was even more excited than I was," recalls Sandra. 
To read more, visit: https://magazine.uvi.edu/sandra-antoine-striving-higher-whatever-you-put-your-mind-to-is-possible/
 A Family Affair – Father & Daughter Graduate Together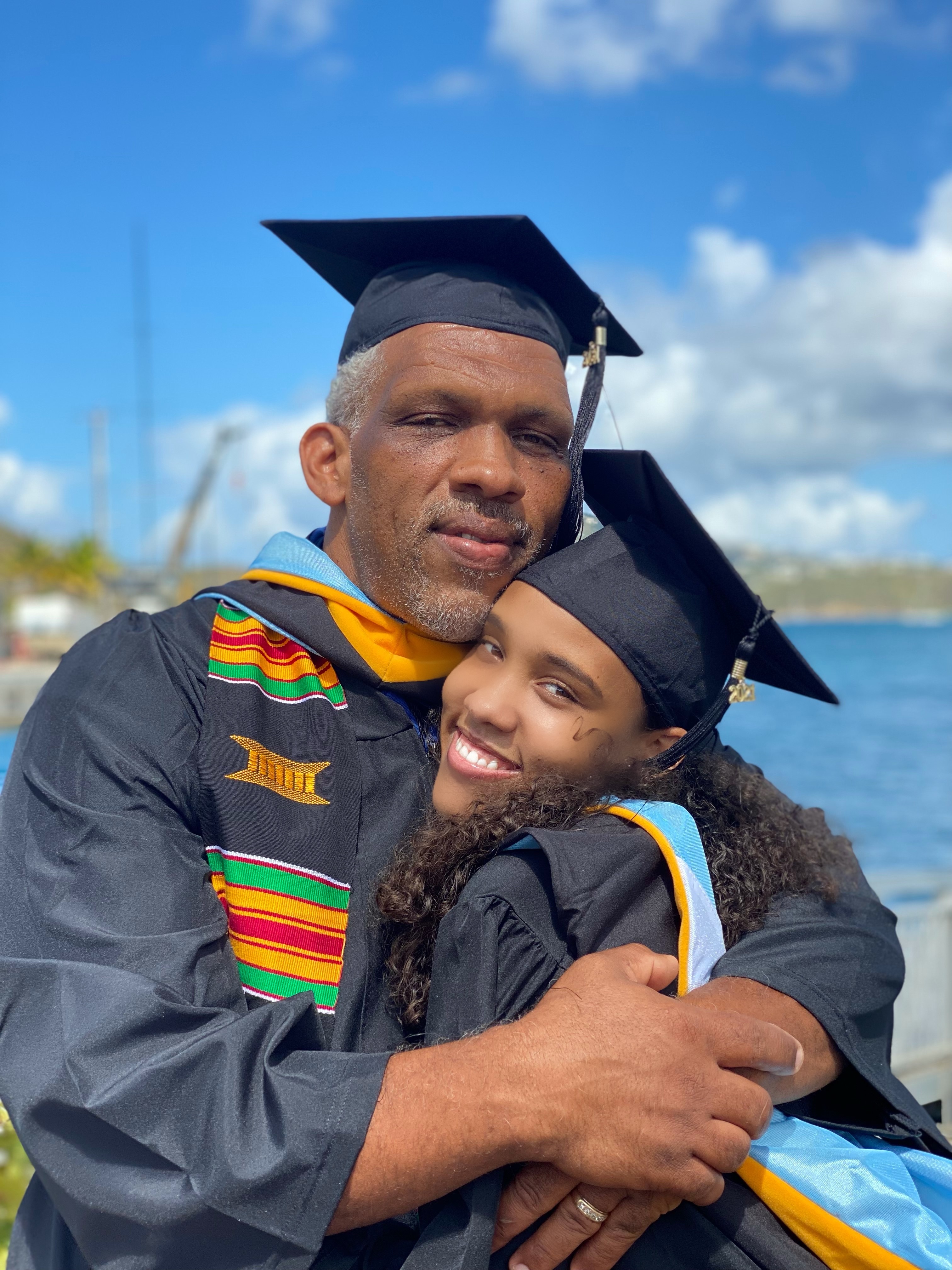 According to Kerry Harrigan, his daughter Kerrina "has always been a daddy's girl." Still, he could not have imagined she would follow so closely in his footsteps. This May, Kerry and Kerrina Harrigan will graduate together from the University of the Virgin Islands (UVI), each earning a Bachelor of Arts Degree in Criminal Justice. 
The father and daughter pair say they didn't really plan it that way. Kerry, who is a 26-year veteran and Lieutenant in the VI Police Department, had already earned an Associate's degree in Criminal Justice in 2009, but wanted to pursue a higher degree. He started working on his bachelor's at UVI, but then paused for a while. Kerrina, whose mother is also a police officer, says she chose the field of study not because of her parents, but because she personally found it interesting. When Kerrina enrolled in UVI in the Fall of 2016, Kerry decided it was a good opportunity to finish up his coursework. At the time, they did not realize they would end up finishing together. 
"It's really special to graduate together," says Kerrina who enjoyed the experience of going to college with her dad. "It was nice to have someone in the class I already knew and to work on assignments together," she said. "Overall, the experience was very good," said Kerry, admitting that he may have been a little overprotective of Kerrina at times. He says there was "no competition" when it came to grades. Kerrina was always a very good student. 
To read mre, visit: https://magazine.uvi.edu/a-family-affair-father-daughter-graduate-together/
Dr. Shamika Williams Moves Full STEAM Ahead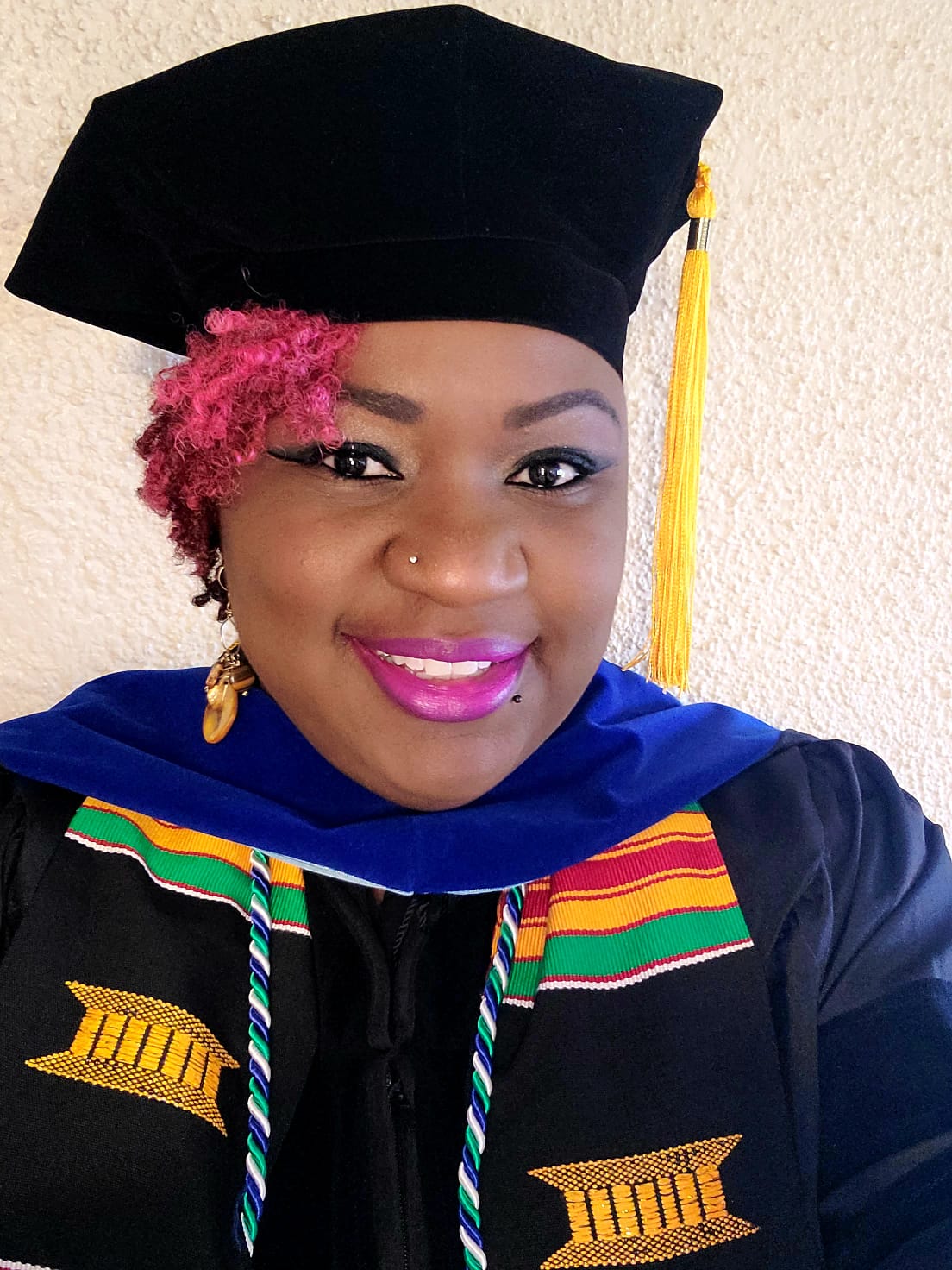 Dr. Shamika Williams is wasting no time putting her education to work. With the Doctorate in Creative Leadership for Innovation and Change, and a concentration in Educational Leadership for Change, that she will receive at the University of the Virgin Islands (UVI), Williams is already applying what she's learned to her role as the State STEM Director at the VI Department of Education.  
"I want to use all of my training to educate students in the Virgin Islands," she says.  "Although I am moving more towards leadership, I am still an educator at heart."    
Williams' doctoral dissertation on STEAM education examined the benefits and opportunities that exist in STEAM, which stands for science, technology, engineering, art and math. Not only is Williams an advocate for STEAM, but she also believes in a more holistic approach to teaching and learning that encourages students to become smart, creative, competitive and compassionate citizens.   
To read more, visit: https://magazine.uvi.edu/dr-shamika-williams-moves-full-steam-ahead/