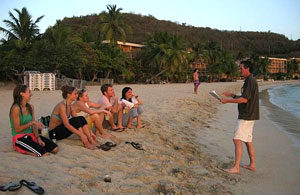 VI-EPSCoR supports efforts to strengthen the quality of undergraduate mathematics and science education, with particular emphasis on increasing student involvement in research.
VI-EPSCoR-funded projects offer many opportunities for UVI undergraduates to participate in research with, and to be mentored by, UVI faculty and other researchers. Many faculty and researchers facilitate inter-university research opportunities for undergraduates through their professional relationships with colleagues at other universities. 
VI-EPSCoR Supports undergraduate and student research through research assistanceships provided within the context of Incubator Grant funding. Improved research facilities at the UVI campuses as well as at the VIERS facility create an exponential increase in the number of research opportunities available to undergraduate students. If you are an undergraduate student looking for a research opportunity, please go to the Research section of our site and read about the research interests of the faculty and other EPSCoR affiliated researchers.