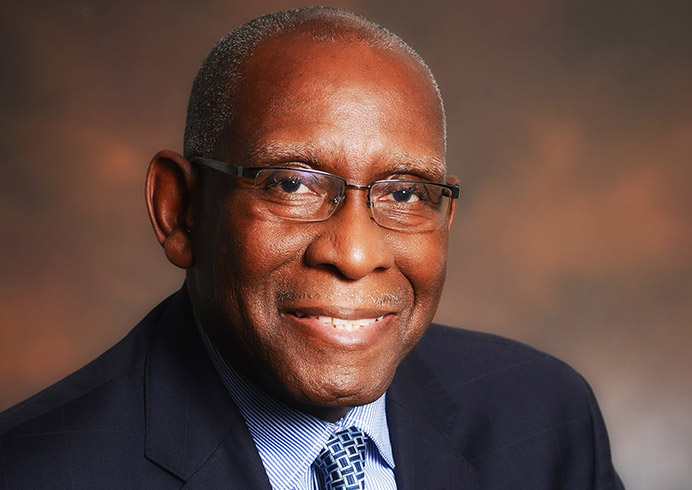 Contact
340-693-1000
Location
St. Thomas
Department
President's Office
Dr. David Hall began his tenure as the fifth president of the University of the Virgin Islands on August 1, 2009. At that same time he was also awarded a Distinguished Professorship of Spirituality and Professionalism at UVI.

In his Fall 2009 Convocation address, Dr. Hall placed the University of the Virgin Islands on the "Pathways to Greatness." He stated, "My charge, as I see it, is to give this community the license to dream again, to believe in each other again, and to reach for the stars of greatness."

On Nov. 4, 2009, Dr. Hall convened a meeting of male students that has come to be known as "Brothers with a Cause." This organization, made up of male students on the University's St. Thomas and St. Croix campuses, has a goal of increasing the recruitment, retention and graduation rates of young men within the territory while promoting the mental, physical, social and spiritual enhancement of male UVI students and the communities that they represent. A major outgrowth of this effort is the annual Man Up Conference sponsored by the University which attracts over 3,000 male students to the University for a day-long program of information and inspiration.

"Young boys in this community who may not see college as within their reach or their dreams must be inspired by the bright and conscientious male students at UVI who are on a mission to redefine what it means to be a man," Dr. Hall said in his presidential inaugural address.
Under Dr. Hall's leadership, UVI has made important strides toward raising the image and position of the University. He led the effort to change the structure of the academic units from divisions to colleges and schools. Additionally, new academic programs, such as a Master of Arts in Counseling Psychology and a Bachelor of Business Administration in Hospitality and Tourism Management have been instituted. The University has also launched a new Caribbean Center for Green Technology, a Center for the Study of Spirituality and Professionalism, and an Institute for Leadership and Institutional Effectiveness. A recycling program has been implemented on both campuses as part of the UVI Goes Green initiative.
In order to ensure that all students who enter the University achieve and realize their dreams of academic success, President Hall launched a Center for Students Success which provides coordinated and comprehensive support to students throughout the University. To ensure that UVI students from St. John as well as members of the St. John community are better served by the University, UVI established and now operates an Academic Learning Center on St. John that provides video conferencing and face to face classes daily.
The University has also forged a closer working relationship with public and private schools throughout the Territory. UVI now sponsors an expanded Summer Bridge Program, a Junior University for 8th grade males, and other outreach efforts to ensure that more Virgin Islands students see college as an obtainable goal and are equipped to succeed at an early age. Working with leaders within the Virgin Islands Department of Education and the V.I. Board of Education, President Hall established a P-16 Collaborative to create a seamless pathway to success from preschool to college.
Under President Hall's leadership, the University received a $1 million pledge to create a science building, and a $5 million gift to create the 13D Student Entrepreneurial Competition and fund the Kiril Sokoloff endowed professorship in Entrepreneurship. Alumni contributions have also doubled since his tenure as President. The University has also constructed a 100-bed state-of-the-art residence hall on St. Thomas, and has worked with the Research and Technology Park to construct an academic building on St. Croix.

Dr. Hall is also committed to inclusion and transparency, which he views as hallmarks of strong leadership. As such, he has worked to implement a new, open and transparent University that upholds the tenets of shared governance. He has convened presidential advisory committees on both campuses, and has a presence on both campuses.
Born in Savannah, Georgia, Dr. Hall holds a bachelor's degree from Kansas State University, where he was named an "All American" for his athletic and scholarly accomplishments. After graduating from Kansas State, he played professional basketball in Italy. He received his doctor of jurisprudence (JD) from the University of Oklahoma, where he also earned a master's degree in Human Relations. He holds both an LL.M. degree and a doctorate of juridical science (SJD) from Harvard Law School.

In 1993, when he was appointed dean of the Northeastern University School of Law, he made history by being the first African-American to hold the position. He also served as Provost and Senior Vice President of Northeastern University, and was also the first African American to hold that position.

Having taught law for more than 25 years in the law schools of the University of Mississippi, the University of Oklahoma and Northeastern University, Dr. Hall has enjoyed a distinguished career as an educational administrator and preeminent scholar in the field of law. In May 2010, in recognition of his significant contributions to the legal field, Dr. Hall was awarded the honorary degree of Doctor of Laws from the New England School of Law in Boston, Massachusetts. He has been honored by the Massachusetts Black Lawyers Association as a Trailblazer. Dr. Hall was appointed by President George W. Bush to serve on the Legal Services Corporation Board of Directors.

His publications include works on civil rights, the U.S. Constitution and race, legal education, and social justice. He has authored a book on the intersection of law and spirituality, entitled "The Spiritual Revitalization of the Legal Profession: A Search for Sacred Rivers," and lectures nationally on topics of social justice, leadership, diversity and spiritual values in professional life.

He is married to Dr. Marilyn Braithwaite-Hall, and is the father of three children: Rahsaan, Sakile and Kiamsha.