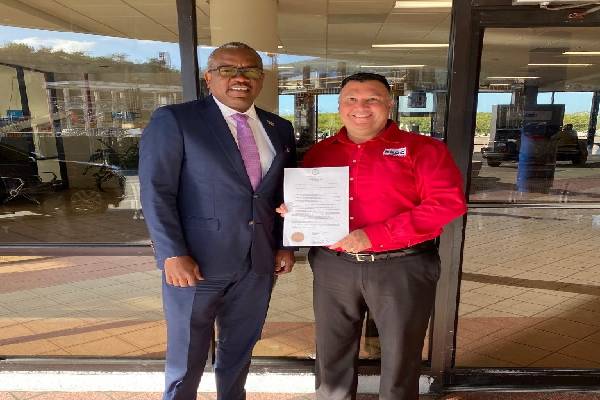 In recognition of the work of the Virgin Islands Small Business Development Center (VISBDC) in supporting local small business owners and entrepreneurs, VI Governor Albert Bryan, Jr. has proclaimed Wednesday, March 16, 2022, as 'VI SBDC Day' in the U.S. Virgin Islands. The day also marks the 60th anniversary of the University of the Virgin Islands' (UVI) charter by the V.I. Legislature in 1962.
Established in 1985, the VI SBDC is the only nationally accredited program that provides business advising, training, and information resources to help V.I. businesses start, grow and succeed. This Wednesday, the U.S. Virgin Islands celebrates 'VI SBDC Day' in allegiance with America's Small Business Development Center network to fulfill the dreams and aspirations of U.S. Virgin Islands' small businesses to drive the territory's economic growth and resiliency.
"I would like to thank Governor Bryan and his team for this special honor," statedTed J. Gutierrez, VI SBDC state director. "The last two years wreaked havoc on small businesses in the U.S. Virgin Islands and the VI SBDC was successful in assisting over 1,100 clients, supporting over 3,500 jobs and helped our clients obtain over $29 million in capitalization. We could not have achieved these milestones without support from Governor Bryan, the University of the Virgin Islands and our other partners in the territory."
VI SBDC resource partners, clients and supporters are celebrating the day by participating in the national SBDC Day Ambassador program which is designed for organizations and businesses to get involved and show their support through social media, blogs and newsletters.To join the movement, upload a picture on social media of your small business with the hashtag #SBDCDAY and tag the @VISBDC to show your support.