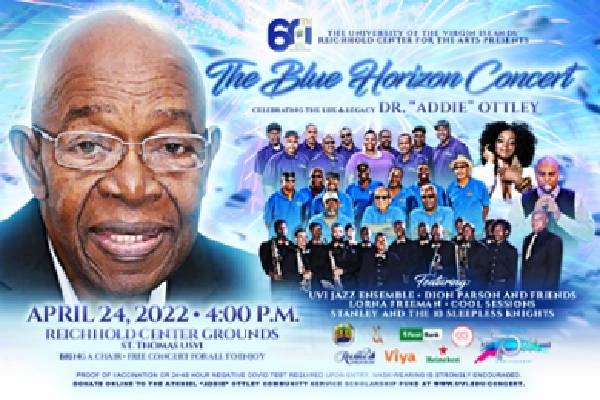 Through its Reichhold Center for the Arts, the University of the Virgin Islands (UVI) will host a special musical event to celebrate the life and legacy of renowned Virgin Islander Dr. Athniel "Addie" Ottley. The Virgin Islands community is invited to enjoy the "Blue Horizon Concert" on Sunday, April 24, 2022, on the Reichhold Center grounds on UVI's Orville E. Kean Campus in St. Thomas, beginning at 4 p.m.
This free musical event will feature musical performances by Dion Parson and Friends, the UVI Jazz Ensemble, Lorna Freeman, Stanley and the 10 Sleepless Knights, and Cool Sessions Band. Bring your blankets, chairs and join us on Reichhold Center's grounds. Vendors will be on site. There will be a cash bar.
"To so many in the Virgin Islands, but especially to this University, Addie was a precious icon, voice, friend, and advocate," said UVI President Dr. David Hall. "It is our responsibility to ensure that the insights, wisdom, and legacies of Addie are not lost for future generations. We can keep his memory, legacy, and insights alive."
In addition to the concert, initiatives planned by the University to honor Dr. Ottley's legacy, include the establishment of the Athniel "Addie" Ottley Community Service Scholarship Fund, which will support UVI students pursuing careers in the communication and the arts. The scholarship will also support plans for UVI Communications faculty together with WUVI 97.3 FM, the University's student radio station, to develop a radio program that embodies the methodologies, styles and values of Dr. Ottley's morning show as a benefit to the entire Virgin Islands community.
"These are our plans to ensure that this community and our students can benefit from the richness of the life of this great man, Addie Ottley," said Dr. Hall.
"This is indeed an honor, keeping my father's legacy alive," said Dr. Ottley's son Robert Brown, expressing his appreciation to the University for its support and initiatives to extend the impact of Dr. Ottley's life and living to future generations of Virgin Islanders.
Sponsors for the Blue Horizon Concert include the University of the Virgin Islands, the VI Council for the Arts, VIYA, the VI Tourism Department Division of Festivals, Virgin Islands Public Broadcasting System-WTJX, Heineken, Coca Cola, Cruzan Rum, Courvoisier and FirstBank.
While entrance to the concert is free, University representatives will be on hand to accept donations to the scholarship fund.
Donations to the Athniel "Addie" Ottley Community Service Scholarship Fund can also be made online at www.uvi.edu/concert.
In keeping with the Government of the Virgin Islands COVID-19 protocols related to large gatherings, all patrons are strongly encouraged to wear masks. To gain entry to the event please present your vaccination card or present a negative COVID-19 test 24 to 48 hours prior to the concert.
For more information, contact the Public Relations Office at pr@uvi.edu or visit www.uvi.edu.