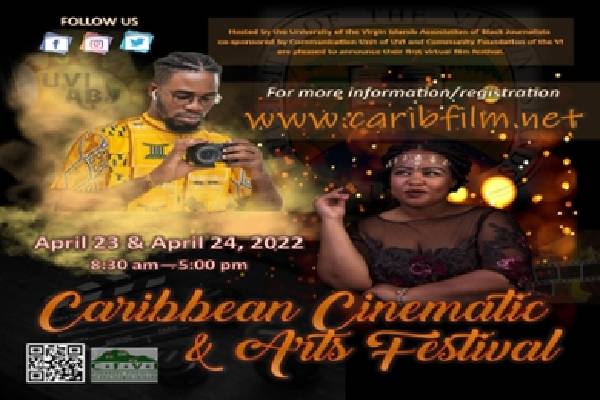 The University of the Virgin Islands Association of Black Journalists (UVIABJ) will host its first virtual film festival – the 2022 Caribbean Cinematic and Arts Festival (CCAF) – this Saturday, April 23, and Sunday, April 24, via zoom.
The CCAF, primarily produced by UVI Communication students, was created to encourage students and community members to showcase their creative cinematic and audio works to inspire and to entertain. Members of the local community, the wider Caribbean, students, faculty, and Historically Black Colleges and Universities (HBCUs), as well as others interested in learning about any aspect of cinema and the arts, are invited to attend this two-day event.
"UVIABJ students have accomplished a lot in less than two years as the first and only media chapter of the National Association of Black Journalists (NABJ) in the Caribbean," said UVIABJ Secretary and University Communication Major George Francis. "Students at UVI's school of communication will put on a spectacular show in less than 36 hours, spread out over two days." A preview of the upcoming fun-filled weekend is available by visiting www.caribfilm.net.
Presentations by guest speakers, as well as a ceremony honoring the Spring semester Communication graduates, are all part of the festival, which also features a showcasing works submitted by students, local filmmakers, and enthusiasts amongst the 14 film and audio categories.
"Every once in a while, we get a chance to be a part of something really special.  Something that really inspires us to be the best we can be," said Carlos Eton, Communication student and program manager for CCAF. "The Caribbean Cinematic and Arts Festival is not only an opportunity for Caribbean islanders to showcase their visual and audio artistry, but it also serves to remind us what unites us as people—creativity, passion, humor, inspiration, and joy.  I am glad to be a part of this event and invite others to join us in this celebration of imagination and talent."
The student-led festival will kick off with an official opening ceremony. After that, it's on to the races!
The following film creators will serve as guest presenters and workshop hosts. Color Box Productions' Irvin Mason Jr. (director), Timeless' Ed Laborde Jr. (writer/director/producer/editor), Peter Bailey (Nightcap Media), Nikole Tyson (NT Media Productions), St. Croix Entertainment's Minoca Pierre-Alexander, and John P. Wheatley. Wheatley, owner of NT Media Productions, is a writer, producer, consultant, and three-time award winning consultant. Guests Nakia Stephens (Damn Write Originals) and Yolonda Brinkley (Diversity in Cannes) will share their experiences and insights.
The festival is sponsored in part by the Community Foundation of the Virgin Islands (CFVI). Attendance to the festival is free.