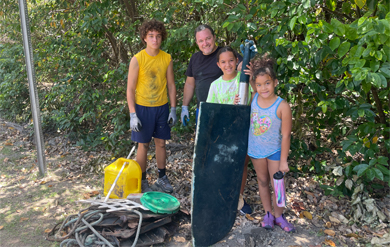 To help reduce marine debris, experts advise individuals to refuse, reduce and reuse single-use plastics
More than 4,600 pounds of marine debris was removed from mangrove shorelines during the 2022 Great Mangrove Cleanups that took place on May 7, in Coral Bay, St. John and on June 24, in Salt River, St. Croix. A total of 64 community volunteers, ages three to 67 participated in the clean ups.
On St. John, the top three items removed were beverage bottles (818; including plastic, glass, and cans), plastic pieces (474), and construction materials (238). There were also several weird finds, including the hull of a boat, a car door, two boat rudders, two propane tanks, a scuba tank, 17 flip-flops and other shoes, a GPS unit, a boat propeller, six paddles, and a purse.  
On St. Croix, the top three removed items were beverage bottles (794; including plastic, glass, and cans), plastic pieces (299), and food wrappers (163). Weird finds in St. Croix's mangroves included a "Romancing the Wind" DVD, a tiki torch, a fake plant, a plastic doll, and a fire extinguisher.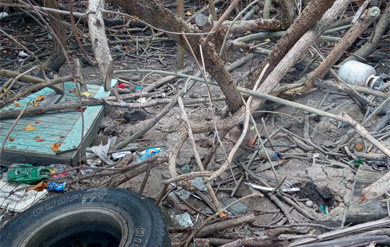 The 2022 St. Thomas and St. Croix Great Mangrove Cleanups were supported in partnership by the University of the Virgin Islands (UVI) Center for Marine & Environmental Studies, the Virgin Islands Department of Planning and Natural Resources Division of Coastal Zone Management, Virgin Islands Marine Advisory Service, The Virgin Islands Experimental Program to Stimulate Competitive Research (VI- EPSCoR) , Coral Bay Community Council, BushTribe Eco Adventures, Virgin Islands Waste Management Authority, Atlantic Trucking, the National Park Service, the National Science Foundation INCLUDES SEAS Islands Alliance, GROEE USVI Mangroves, and the National Oceanic and Atmospheric Administration's (NOAA's) Marine Debris and Coral Reef Conservation Programs.  
The event builds on the success of past Great Mangrove Cleanups that have occurred on St. Thomas, St. John and St. Croix since 2018. Combined, these events, including the 2022 cleanups, have engaged 567 community volunteers who removed 10 tons of marine debris from mangrove shorelines.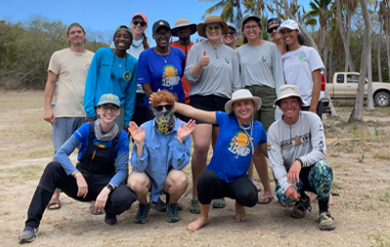 "This was a tremendous effort by our dedicated volunteers! The amount of trash and debris removed from the mangroves is truly impressive and speaks to how much we can accomplish when we work together," said project partner Allie Durdall from the UVI Center for Marine & Environmental Studies. 
In the U.S. Virgin Islands, most marine debris comes from sources on land and are made of plastic. The good news is that individuals can make a big difference when it comes to reducing marine debris by refusing or reducing the number of single-use items they use, re-using items, or making sure that items that must be thrown away end up in the proper waste receptacle, rather than on the ground. 
To learn more about upcoming marine debris cleanup efforts in the territory, please contact Zola Roper at zola.roper@uvi.edu or visit https://viepscor.org/about-marine-debris-in-the-usvi. 
For more information contact the UVI Office of Public Relations at pr@uvi.edu.