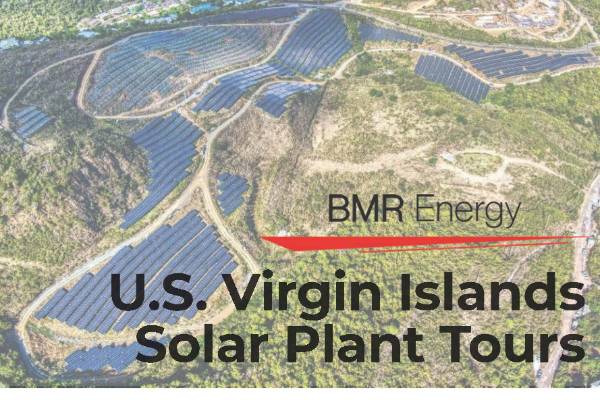 How many times have you driven past the solar plants in Donoe, St. Thomas or Spanish Town, St. Croix and wondered what they are all about? For Virgin Islanders interested in learning more about the expansion of solar energy in the Territory, the UVI Caribbean Green Technology Center and BMR Energy, solar plant owners and operators, will be hosting a one-time opportunity to take a tour of the solar plants located in Spanish Town on St. Croix on Tuesday, Oct. 25, and located in Donoe on St. Thomas on Thursday, Oct. 27. People are encouraged to stop by right after work, as tours will begin promptly at 5:30 p.m. The tours are free and open to all, but attendees are encouraged to register in advance as spots are limited. To confirm a reservation for St. Croix, visit https://fb.me/e/85BLQgLVN or https://www.eventbrite.com/e/429614898727. To confirm a reservation for St. Thomas visit https://fb.me/e/1VplX9h99 or https://www.eventbrite.com/e/429622551617.
Parking for the tour will be alongside the road as indicated in the following maps. "We ask that attendees wear closed-toed shoes and show up 15 minutes early as the gate will need to be unlocked at the start of the tour," said Ariel Stolz, research scientist and CGTC assistant director.
Tour attendees will receive a safety briefing, learn about how power is supplied to the WAPA grid through a substation, understand the different solar plant components, learn about the design and installation considerations of the plant and walk through a typical day for a solar plant operator.
The tour will be run by David Perri, the director of Engineering of BMR Energy who will be traveling to the Territory for this opportunity. BMR Energy is a global company dedicated to delivering clean energy to the Caribbean and Latin America with several projects across the region including Jamaica, Guatemala, Costa Rica, and the Cayman Islands.
For more information on BMR Energy, please visit https://bmrenergy.com/.
If you have any specific questions that you would like to pose to the solar plant operators, you may submit questions in advance to cgtc@uvi.edu so that they can be more thoroughly addressed during the tour.
This tour was organized by the Caribbean Green Technology Center as part of Energy Awareness Month. Other activities include the Energy and Sustainability Fair which was held on St. Thomas on October 15 and will be held on St. Croix at the Great Hall on the UVI Albert A. Sheen campus on October 30. Starting at 10 a.m. and concluding at 5 p.m., activities will include workshops, live demonstrations and the chance to meet with vendors, professionals and leaders in the Territory. The Energy Fair is a collaboration between the University of the Virgin Islands and the VI Energy Office aimed at empowering Virgin Islanders to transition towards energy independence and become more resilient.
This event is supported by the University of the Virgin Islands, the Virgin Islands Energy Office, the Home Depot Foundation, BMR Energy, Freepoint Commodities, Barefoot Architects, ProSolar Systems, Silver Sun Solar, The Market & Moe's Fresh Market, Algas Organics, VI Waste Management Authority, Electric Factory, LAN Communications, and Ion Vehicle Technology, LLC.