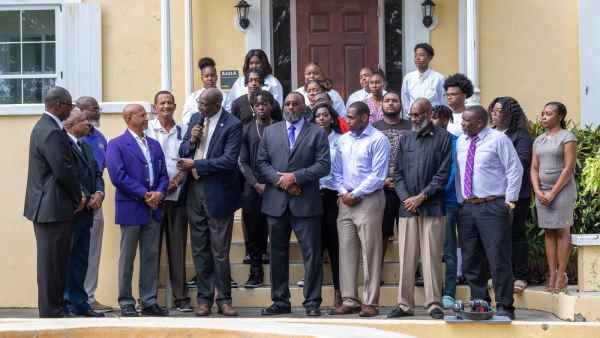 International fraternity Omega Psi Phi, Inc. has made a donation of $5,000 to the University of the Virgin Islands (UVI) in support of the University's strategic initiatives.
During a check presentation ceremony held on Wednesday, Oct. 5, on the Albert A. Sheen Campus in St. Croix, Dr. Byron Biscoe, who serves as Omega Psi Phi's Deputy District Representative for the Caribbean, shared that the organization, which upholds the core principles of "Manhood, Scholarship, Perseverance and Uplift," offers many opportunities for UVI students to participate in Greek life, serve their communities and develop into adults of strong character and integrity.
"We are so grateful to Omega Psi Phi for making this generous contribution to UVI at a time when we are deeply engaged in activities related to meeting the goals of our Greatness Through Innovation Strategic Plan," said UVI President Dr. David Hall. "This gift strengthens our longstanding relationship with Omega Psi Phi and symbolizes our ongoing mutual commitment to transforming the lives of Virgin Islanders both within and without our academic walls through service and mentorship," he added.
The Greek organization, which is active on the Albert A. Sheen Campus - St. Croix (Eta Iota Iota chapter) and the Orville E. Kean Campus - St. Thomas (Zeta Xi chapter), directed funds to UVI as part of its annual College Endowment Fund activities, which are used to support historically Black colleges and universities (HBCU) across the United States. This is the first time that the University of the Virgin Islands has been the recipient of a direct gift from Omega Psi Phi's international headquarters. The UVI chapters represent the fraternity's 13th International District.
Community service activities Omega Psi Phi has spearheaded in the U.S. Virgin Islands include supporting residences for the elderly, cleaning up parks and recreation spaces, coaching youth baseball teams and providing swimming lessons, mentorship experiences and speaking to young people in schools across the Territory.
"Omega Psi Phi has always been committed to supporting, empowering and nurturing young men, grooming them for service in and to local communities, and it is our pleasure and honor to make this donation to UVI on behalf of our members," said Dr. Biscoe, who specializes in surgery and diseases of the eye and will serve as Associate Professor of Ophthalmology at UVI's School of Medicine, which is in the applicant phase of its opening plans.
He has also been an active fundraiser on behalf of the University, hosting events in both St. Thomas and St. Croix to raise money to support UVI's mission. "We are proud to treasure many of the core values and ideals the University also holds dear as an HBCU."
Omega Psi Phi Fraternity, Inc. is the first international fraternal organization founded on the campus of a historically Black college. There are a total of six chapters in the Caribbean region.
For more information, contact pr@uvi.edu.