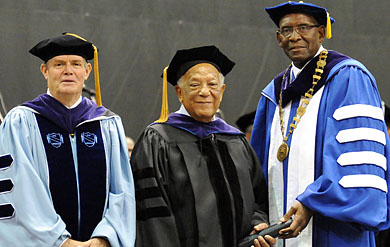 UVI President Dr. David Hall, on the behalf of the entire University family – the Board of Trustees, foundation boards, faculty, staff, students and alumni – has extended sincerest condolences to Mrs. Doris Todman, UVI Professor of Psychology Dr. Patricia Todman, other family, friends and loved ones of former U.S. Ambassador Terence A. Todman, who died on Wednesday, Aug. 14, at Schneider Hospital on St. Thomas.
PHOTO CAPTION: Ambassador Terence A. Todman, center, receives an Honorary Doctorate of Law degree during UVI's 2013 Commencement  Ceremony from UVI President Dr. David Hall, right, and Attorney Henry C. Smock, who is now Chair of the UVI Board of Trustees.
"Ambassador Todman was a valued member of the UVI family and we appreciate having had an opportunity to benefit from his knowledge, leadership and service, particularly in his capacity as a member of the UVI Board of Trustees for more than 20 years," Dr. Hall said.
Dr. Hall noted Ambassador Todman was a highly accomplished and remarkable individual and one of the United States' most senior and respected ambassadors who advanced to the position of career ambassador, the highest diplomatic rank of in the Foreign Service and the Diplomatic Corps of the United States. "His contributions to international governmental relations and to society in general is worthy of our recognition," Dr. Hall said.
During his unprecedented 40-year career Ambassador Todman earned many accolades. Some of Ambassador Todman's accomplishments include having received the Presidential Distinguished Service Award, the National Public Service Award, the Public Diplomacy Award, the Department of State Superior Service Honor Award, the Secretary of State's Distinguished Service Award and the Department of State Director General's Cup. A special ceremony was held in his honor in Statuary Hall in the U.S. Congress. He has been decorated by the governments of Argentina, Chad, Denmark, Spain and the U.S. Virgin Islands. He was inducted into the Hall of Fame of the U.S. Infantry School at Fort Benning, Georgia. A skilled linguist, in addition to Arabic, he became fluent in Spanish, Japanese, Danish, Hindi (Hindee), French, and Russian. 
"Because of his diplomatic achievement, impeccable leadership, integrity and visionary insights, the Board approved last year that Ambassador Todman receive an honorary doctorate of law degree from the University of the Virgin Islands," Dr. Hall said. That honor was bestowed upon him during the University's May Commencement ceremonies in 2013. "As a Virgin Islands native son, he set the standard for others on how to transform government so that it is responsive to the needs of our rapidly changing world," Dr. Hall said.
Dr. Hall also said his office has been working with V.I. Senate President Shawn-Michael Malone and Office of the Governor on a Professorship in International Diplomacy that would allow the University to develop expertise in an area that is critically important to the development of students, and enshrines the legacy and work of Ambassador Todman. "We hope that this Professorship could eventually lead to a degree program in International Relations and Diplomacy so that future Virgin Islanders will be equipped to follow in the footsteps of Ambassador Todman," Dr. Hall said. "We believe that this Professorship will have a significant impact on the Territory and honor an individual who merits special recognition for a career of extraordinary achievement and distinction."