Lawyer, writer, activist and children's advocate Marian Wright Edelman will be the keynote speaker at the University of the Virgin Islands' 2015 Commencement Ceremonies. This year's ceremonies will occur on week days – Wednesday, May 13, on the grounds of the Albert A. Sheen Campus on St. Croix and Thursday, May 14, at the St. Thomas Campus Sports and Fitness Center. Both ceremonies will begin at 1:30 p.m.
Edelman is founder and president of the Children's Defense Fund (CDF) and has been an advocate for disadvantaged Americans for her entire professional life. Under her leadership, CDF has become one of the nation's strongest voices for children and families. As founder, leader and principal spokesperson for the CDF, Edelman worked to persuade Congress to overhaul foster care, support adoption, improve childcare and protect children who are handicapped, homeless, abused or neglected. She continues to advocate youth pregnancy prevention, childcare funding, prenatal care, greater parental responsibility in teaching values, and curtailing children's exposure to violent images transmitted by mass media.
Edelman, a graduate of Spelman College and Yale Law School, was the first black woman admitted to the Mississippi Bar. In 1968, she moved to Washington, D.C. as counsel for the Poor People's Campaign that Dr. Martin Luther King, Jr. began organizing before his death. She has received over 100 honorary degrees and many awards. In 2000, she received the Presidential Medal of Freedom, the nation's highest civilian award, and the Robert F. Kennedy Lifetime Achievement Award for her writings. In addition to being the keynote speaker, she will also be awarded an honorary degree from UVI.
Joining Edelman in receiving UVI honorary degrees will be former Gov. Charles W. Turnbull and former educator Dr. Ruth Harrigan Beagles.
Dr. Charles W. Turnbull is the sixth elected governor of the U.S. Virgin Islands and was re-elected overwhelmingly to serve a second term. During his term, Gov. Turnbull had many noteworthy accomplishments. In recognition and appreciation of his contributions, the 29th Legislature of the Virgin Islands awarded Dr. Turnbull the Virgin Islands Medal of Honor – the territory's highest honor. The public library in Estate Tutu, St. Thomas, was also named "The Charles Wesley Turnbull Regional Public Library" in his honor. Dr. Turnbull holds a Bachelor of Science in History with honors, a Master of Arts in Secondary Education and a doctorate in Educational Administration. His service in education spans more than forty years. He has served the people of the Virgin Islands as an elementary and secondary school teacher, principal of the Charlotte Amalie High School, commissioner of the Department of Education, chairman of the Virgin Islands Board of Education and professor emeritus of history at the University of the Virgin Islands. He has also served as an elected delegate to all five Constitutional Conventions of the US Virgin Islands. Dr. Turnbull has received numerous honors and recognitions. Now retired, Dr. Turnbull, continues to devote his time and energy to serving the people of the Virgin Islands in a variety of community organizations and activities.
Dr. Beagles has devoted her entire professional life to advancing education in the US Virgin Islands. She has been widely recognized throughout the territory as an exceptional educator and leader for her deep commitment and passion for excellence in education and academic achievements. A graduate of Christiansted High School, she received a Bachelor of Science in Elementary Education, a Master of Arts in Speech Education and an Ed.D. in Educational Leadership. Dr. Beagles, the first principal of Pearl B. Larsen Elementary School on St. Croix, was a teacher and administrator in both public and private schools for many years. She is a retired associate professor of Education and chair of the Education Division at the University of the Virgin Islands. Dr. Beagles has had a compelling and distinguished impact in the education field and worked diligently to elevate the profession and improve student outcomes. A true believer in the importance of community, she was active on many boards, commissions, and committees and served as secretary of the fourth V.I. Constitutional Convention.
This year the class of 1965, the first graduating class of the College of the Virgin Islands, is celebrating its 50th anniversary. The 11 graduates from that first class are hailed as trailblazers who embraced Gov. Ralph M. Paiewonsky's vision for higher education in the territory. In celebration of their 50th anniversary they were invited to participate in this year's ceremony.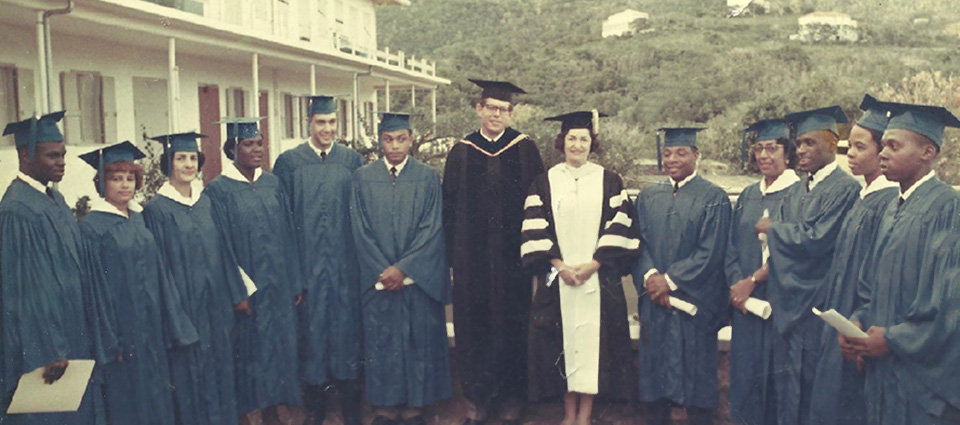 Photo Caption: The first graduation class of the College of the Virgin Islands (CVI) with First Lady "Lady Bird" Johnson (President Lyndon B. Johnson's wife) who was commencement speaker and Dr. Lawrence Wanlass, CVI's first president.
Also this year the UVI School of Nursing celebrates the milestone of 50 years of nursing education at the institution. The first nursing class began with approximately 25 students for the associate's degree on the St. Thomas Campus. UVI also offers a Bachelor of Science in Nursing degree. The nursing programs have maintained accreditation since 1969. Dr. Beverley Lansiquot, a graduate of the class of 1973, is now dean of UVI's School of Nursing. This May the "Celebration of 50 Years of Nursing Education at the College and University of the Virgin Islands" takes place with events on St. Croix and St. Thomas. Nursing reunion attendees were also invited to participate in the Commencement Ceremonies. For more information about the nursing reunion visit www.uvi.edu or this direct link.
Information about UVI's Commencement, along with links to archived videos and information from the 2014 Commencement are featured on the UVI website – www.uvi.edu and from this direct link, http://commencement.uvi.edu.
Information about the University's policy and procedures for awarding honorary degrees, along with downloadable nomination forms, is featured in the Board of Trustees' Section of the UVI website and on the Commencement webpage. Members of the University community may nominate individuals for consideration. A committee of UVI faculty, staff, students and alumni evaluates nominees and presents its recommendations to the President, who makes final recommendations to the Board's Academic, Research and Student Affairs Committee. The full Board of Trustees approves the final selections. 
For more information contact the St. Thomas Campus Commencement Committee Co-chairs Gail Steele and Dr. Lorna Young-Wright and Albert A. Sheen Campus Commencement Committee Chair Dr. Denis Griffith.