The University of the Virgin Islands Process Technology program, a part of the College of Science and Mathematics, received a $150,000 donation from Diageo BRAND USVI on Aug.12.  The funds will be awarded as $50,000 annual grants over three years, with a plan to review the investment at the end of the term for renewal. 
"One of the core four focus areas for our community engagement is education and workforce development," said Colman Hanna, vice president of operations at Diageo USVI. Hanna assumed leadership of Diageo's St. Croix distillery last fall and is looking to increase focus on long-term sustainability through internship and apprenticeship programs. "We believe the University of the Virgin Islands Process Technology program is an excellent source for talent for the territory." He continued, "Whether or not we have a place at Diageo for the graduates whom we will support, we know helping to grow a skilled workforce will strengthen the USVI and make it even more attractive to other companies considering locating on one of the islands." 
The grant will include an earmark of $25,000 for scholarships.  The remaining funds will be used toward projects dedicated to the support and growth of the Process Technology program.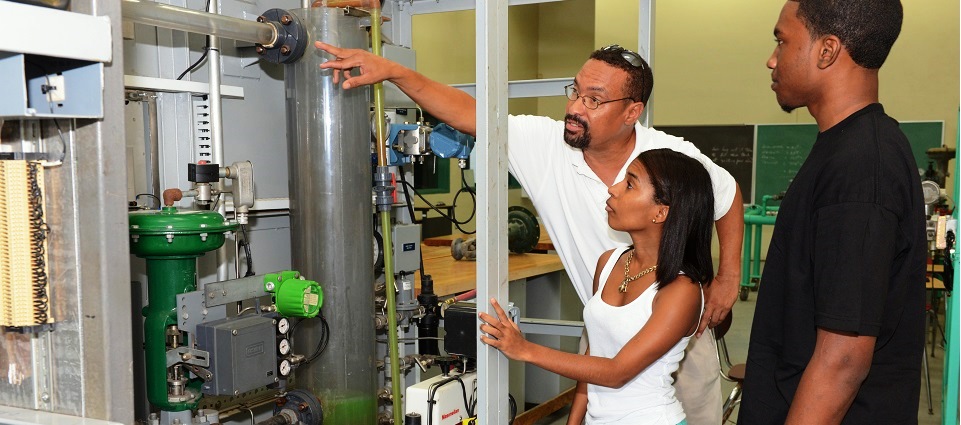 Hands-on training is a strength of UVI's Process Technology program.
Part of Diageo USVI's donation will be used to partially-fund the development and implementation of a Computer Process Simulation and Control Laboratory. This laboratory will provide students enrolled in the program with hands-on training that is critical for their success as process technicians. It will include a wide-range of process simulation modules including a distillation system process module and an ethanol plant process module.
"The viability and continued growth of the Process Technology Program hinges on the type of collaborative effort and partnership established between Diageo USVI and the University of the Virgin Islands," said Eric Douglas, UVI director of the Process Technology Program. "In addition to financial support, Diageo USVI also offers internships to UVI Process Technology students – a very critical component of the program." 
This past spring, two UVI Process Technology students completed eight-week long internships at Diageo's distillery to meet the final requirements for completing the two-year program and earn an associate's/ bachelor's degree.  The students rotated through the plant, working and shadowing operators for approximately one week at a time across seven units.  
"We know the importance of having hands on experience to help translate some of the theory learned in the classroom into practical application," said Hanna. "We want to expand our investment in students like our recent interns by making an extended commitment to the University's Process Technology program."