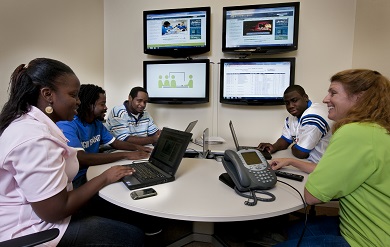 This Fall, UVI will offer its first ever Ph.D. program along with two new master level programs in the School of Education, and two new master and three new bachelor level programs in the School of Business.  New this year will also be three additional minors: one in Health Sciences, one in Sociology and one in Spanish.  All of the new programs will start in the fall of 2016.
"The University is pleased to be able to augment its offerings, especially at the graduate level," said Dr. Camille McKayle, provost and vice president for academic affairs.  "The inaugural week-long residency of the new Ph.D. in Creative Leadership for Innovation and Change program will have presenters from UVI and our partner institutions, Fielding Graduate University and Buffalo State University.  We will also have new graduate programs in education, and in business.  Through these programs, UVI expects to better address the needs of our community."
The Ph.D. in Creative Leadership for Innovation and Change requires that all admitted students enroll in an approved specialization track.  Students may choose between the following three tracks:
Many of the doctoral courses will be available via distance technology.
Two new graduate programs in the School of Education will be offered starting in the Fall of 2016:
The Master of Arts in Educational Leadership is a rigorous program designed to prepare aspiring principals, assistant principals, and other educational professionals to become strong leaders who are capable of facing 21st century challenges. 
The Master of Arts in School Counseling and Guidance is a rigorous program designed to prepare aspiring school counselors who are capable of facing the challenges of a changing territory, Caribbean and world.
Three new undergraduate degrees will be offered through the School of Business:
The new undergraduate business degree programs are part of an effort to encourage students to take more business related courses, and also to allow students to take the requisite number of hours to comply with government regulation regarding qualifying for the Certified Public Accountant's examinations.  Prior to this initiative, students were taking many courses outside of the business curriculum.  The new degree programs will add four additional courses to each concentration, along with an extra elective. 
According to Dr. Dion Gouws, assistant professor of accounting, students in the accounting program will be prepared to sit for the Certified Management Accountant's (CMA) exams in their junior and senior years. 
"This will enable them to earn a sought after professional qualification within a short time after graduation, with significant earning potential and international mobility," said Dr. Gouws.  "Our focus is becoming more career-specific and outcomes-based with a significant focus on experiential learning."
The accounting program also offers a specialization course in forensic accounting, and many of the students who take this course go on to take the Certified Fraud Examiners (CFE) examinations.  These developments are all in accordance with the business school accrediting agency, the Accreditation Council for Business School and Programs (ACBSP).
According to Dr. Stephen Reames, dean of the UVI School of Business, the new programs are a great opportunity to attract students from outside the territory.  "The Caribbean is a limited market, so it makes sense to target offshore students as well as our local population," Reames said.  "Territory, national and international students should all take full advantage of this great opportunity."
UVI also approved two new master level programs in the School of Business:
The Master of Accounting (MACC) is designed to prepare students to successfully complete the rigorous Certified Public Accountancy (CPA) exams and/or the Chartered Financial Analyst (CEA) exam.  Students also have the option of completing a dual master's degree program and earning the MACC/MBA degree.
The Executive Master of Business Administration targets students who are currently employed in executive capacities, but who lack graduate credentials.  In doing so, it will use a variety of course formats that may include intensive weekend classes, short study abroad periods, and online meetings and seminars designed to accommodate the schedules of busy executives.
"Previously, we did not focus on specific preparations for careers through certification," said Dr. Dion Gouws, assistant dean of the UVI School of Business.  "But some faster avenues toward career advancement utilizing state of the art technology are both cost effective for the students and effective for the University, so now we do ."
The University expects that the new degree programs will lead to economic growth within the community.  "If we can build a significant pool of certified accounting and finance professionals, I believe it will attract much needed investment to the Virgin Islands economy," Gouws said.  "The success of the economic development programs of the Virgin Islands is dependent on having skilled accounting and finance professionals that can support the establishment of new business."
"We have already seen tremendous growth in the accounting and finance program in the School of Business.  There have been many requests for information on our new programs as well as indications from students that they are eager to continue their studies into these new programs," Gouws said.
"We are gearing up and excited to move forward on each program for assimilating with a globalized world," Reames said.  "But we are especially concerned with the betterment of the Virgin Islands and the Caribbean at large."
For more information visit www.uvi.edu or see this direct link to the degree programs page.